On a dead-end street in Laurelhurst sits a waterfront home that you might not even take note of. It sits low on the lot down a driveway with a weather-vane. The brick home has a rustic French look about it .It has an unusual brick exterior that we have not seen on any other Loveless homes before. When the exterior bricks were installed, the pattern is uneven on purpose and then white-washed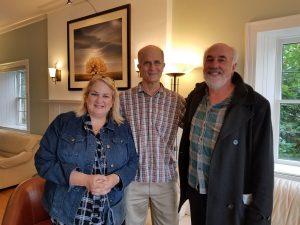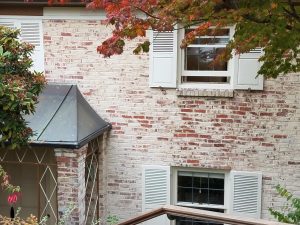 to make it look like an aged farmhouse. It is a Loveless home with some of the most unique features we have come across. Most of his entrances are not oversized or grand. This front door is also not a conspicuous entry but once you enter the door, you step down into a foyer with a distinct character, multi-arched ceiling. You pass by an office and the staircase to the entry landing. From there, you step down again into the lovely and surprisingly large living room. The view is commanding and because the house sits up high on the shores of Lake Washington, you get the feeling that you are in a treehouse! To the right of the entry landing is the dining room and kitchen and kitchen eating nook. A terrace overlooking the Lake is accessed either from the living room or the dining room. The kitchen eating nook has typical Loveless built-in bookshelves and a barrel vaulted ceiling. We had never come across a barrel-vaulted ceiling before so this is another surprise in this Loveless home. The views and the property are spectacular with a zig zag trail that goes down to the level grass lawn. A covered boathouse sits out over the water. Once there, you can see a local eagles nest in the tree at the edge of the water. It's inhabitant with babies is watched by all the neighbors. This house has another detail that we had not come across before.
The exterior bricks on the house were patterned in an irregular line creating a sense of age and settling like you might find in a old French farmhouse with a white-wash finish. Many of the Loveless homes we have seen are very classic Tudor Revival styled homes. This house has classic proportions in a clear departure from Tudor.